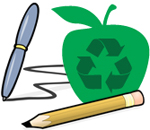 Back to school time is an exciting time whether you are starting 1st grade or your last year of college. If you're like me, buying new school supplies is half the fun of starting the new year. Although red is my favorite color, I'm only buying green school supplies this year. I'm making sure to get an A+ in being eco-friendly by buying green school supplies and keeping some green tips in mind. Grab a pencil and take note of my favorite green school supplies and tips!
Green School Supplies
General Green School Supplies
Green school supplies seem to be popping up everywhere! Recycled paper, pencils made from denim, upcycled binders, oh my! One of my favorite places to stock up on green school supplies is TerraCycle. TerraCycle upcycles and recycles waste like chip bags, toothbrushes, and juice boxes into green school supplies and other items. By keeping waste out of landfills and making use of otherwise useless packaging, you will be the envy of all your green school friends! Green school supplies such as backpacks, pencil cases, binders, and lunchboxes can all be found on this green school supplier's website and retailers like Target.
If TerraCycle isn't your style and you're looking for a green school backpack,just avoid any made with PVC. Try a green school backpack made from hemp or recycled rice bags or one with solar panels!
I also can't forget to mention my new favorite green school calculator! Canon makes a basic desktop calculator made from recycled Canon copiers and the upper and lower casings only use 100% post-consumer recycled plastic. It's so easy to find green school supplies!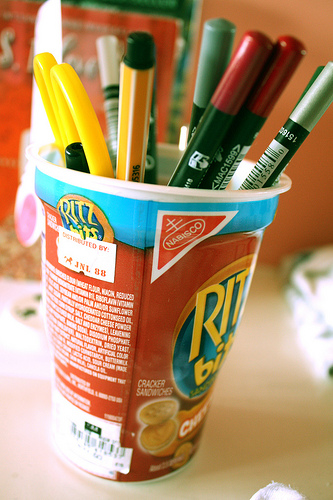 The Paper Problem
Green school supplies might seem like an unachievable feat since school involves lots of paper. We can't always make the switch to e-textbooks and only use a computer to take notes. But don't worry; you can still have a green school experience! Use only scratch paper or green school paper made from recycled materials. Buy used textbooks instead of new ones so those pages get as much use as possible. For some fun green school journals, check out Ecojot. These cute note-keepers are made with acid-free paper, vegetable-based glue and ink, corn-based packaging and post-consumer recycled paper. They're also made with biogas harnessed from a landfill. I love these green school supplies!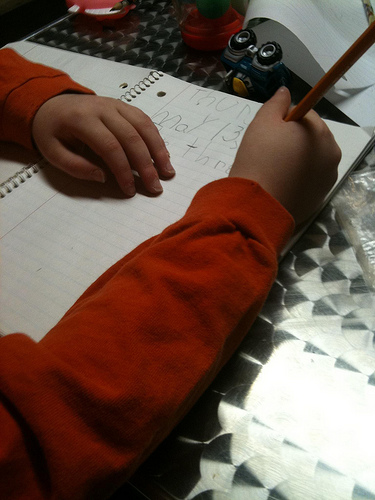 Make your Mark
Whether school means coloring or sketching a cell structure, have a green school experience with these cool soy crayons. These non-toxic crayons are made with soybeans, 100% renewable resources, and do not include paraffin wax or lead. If you just need to write something, keep these green school pens and pencils in mind: biodegradable corn pens, biodegradable mechanical pencils, and 100% recycled pencils.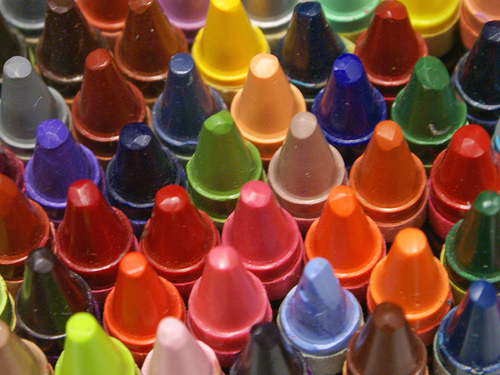 Green School Lunches
Lunch is probably my favorite subject. Enjoy a green school lunch by using a reusable lunch bag and cotton napkins instead of paper. I also love these green school lunch ideas: BPA-free, dishwasher safe Lunchskins reusable baggies and BPA-free water bottles with built-in filters called the bobble.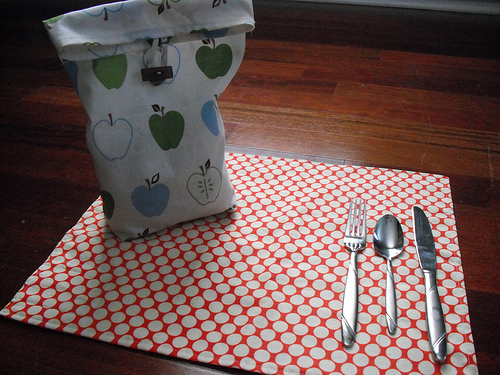 Green School Tips
Green School Computer Use
Green school experiences start with green school computer use! Check out these tips:
Use Refilled Ink Cartridges
Use Vegetable Ink Cartridges instead of Chemical Ones
Lower The Screen Brightness
Use An Energy-Efficient Computer
Recycle Old Computers
Turn Off Electronics When Not In Use to Save Energy
And if you love cardboard as much as I do, make your green school supplies look even cooler by checking out the Recompute PC made from cardboard!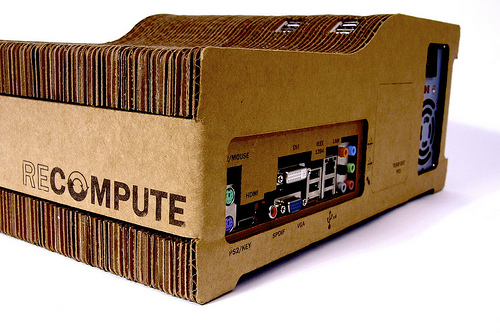 How do you have a green school experience? Have green school supplies you love? Tell us about it in the comments section!